He made these predictions about the upcoming presidential election when a presidential candidate has still n ot been named from the UNP. So far they have not even come to an agreement in this regard.
However, at a discussion held last Saturday it had been agreed upon that the presidential nominee from the UNP should be with the approval of the other parties in the UNF.
Rajitha Senaratne, Champika Ranawaka, Rauff Hakeem, Arjuna Ranatunge representing the UNF and Akila Viraj Kariyawasam, Mangala Samaraweera, Ravi Karunanayake and Kabir Hashim representing the UNP had participated in this meeting.
Sajith meets backbenchers
In a Twitter message, Sajith Premadasa had stated that although the UNP has still not officially nominated the presidential candidate, he would definitely be contesting the upcoming presidential election.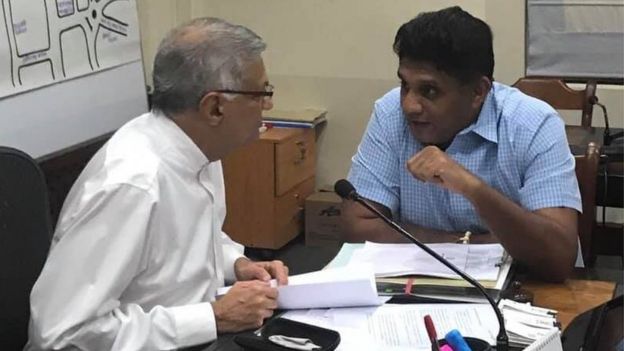 Meanwhile, a group of UNP backbenchers had met with Sajith Premadasa at MP Sujeewa Senasinghe's residence last Tuesday and discussed matters.
MP Hector Appuhamy
MP Hector Appuhamy told the BBC Sinhala Service that it is the hope of the UNP backbenchers to nominate a UNP candidate who can win the presidential election.
"For the past 20 years we and our supporters suffered without a UNP candidate and we are of the stand that at least now we must nominate an UNP candidate and make him win. We expect the UNP Leader Ranil Wickremesinghe
will take the right decision. We speak about it after a great deal of consideration. If we field Sajith Premadasa as the presidential candidate, several opposition parties have promised to support us and then we can definitely win."
Currently, Mangala Samaraweera, Dr. Harsha de Silva, Ajith P. Perera, Iran Wickramaratne, Harin Fernando and many other UNP seniors are backing Sajith Premadasa as the presidential candidate.
What will happen to the UNP?
Currently there are difference of opinions within the UNP and other groups who support the UNP over the presidential candidacy.
Social media views are predicting Ranil Wickremesinghe, Sajith Premadasa, Karu Jayasuriya or Patali Champika Ranawaka to contest the presidential election from the UNF.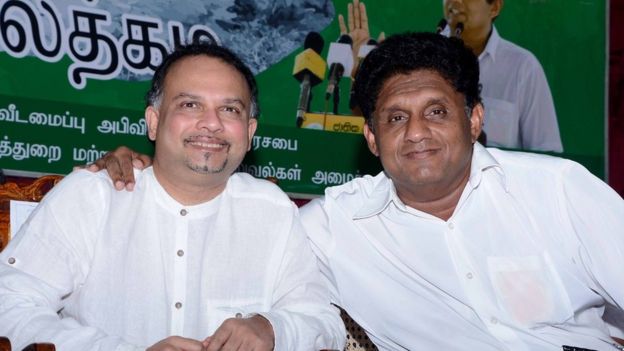 However, Navin Dissanayake gave a hint of the crisis within the UNP at last Monday's meeting at Temple Trees.
SLFP not decided to back Sajith- SLFP General Secretary Mahinda Amaraweera
"In 1990 there was a huge rift in the UNP and my father the late Gamini Dissanayake and Lalith Athulathmudali left the party and commenced their own political campaign. What happened thereafter? The UNP did not perish,
but the political campaign they commenced perished. There cannot be disputes within our party," Navin Dissanayake said.
Meanwhile, it is a question as to what decision Patali Champika and the Jathika Hela Urumaya might take at the upcoming presidential election.
Responding to the media last Monday Minister Patali Champika Ranawaka said there is no issue about who the UNP nomination for the Presidency would be, if his policies are acceptable to the JHU they would support him.
Previously during an interview with the BBC Sinhala Service, Speaker Karu Jayasuriya had stated that if he is invited to contest the presidency he would oblige.
SLFP support for Sajith?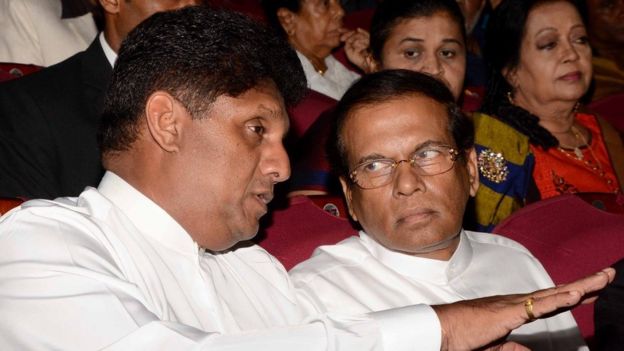 Meanwhile, social media comments suggested that in the event Sajith Premadasa contests the presidential election the SLFP would render their support to him.
However, when contacted, the SLFP General Secretary Mahinda Amaraweera said that the SLFP had not taken a decision to support Sajith Premadasa.
He said so far no discussion has been held regarding this matter and there is no future plans to even discuss the possibility of supporting Sajith, he said.
The UNP vote base
The last time that a UNP candidate contested the Presidential election was in 1988 and it was Ranasinghe Premadasa who won the presidency. Since then until 2015 te results are as follows.
1988 presidential election:
UNP- Ranasinghe Premadasa - votes 2,569,199ක් (50.43%)
SLFP Sirimavo Bandaranaike - votes 2,289,960
1994 presidential election:
UPFA Chandrika Bandaranaike Kumaratunge - votes 4,709,205 (62.28%)
UNP Srima Dissanayake – votes 2,715,285
1999 presidential election:
UPFA Chandrika Bandaranaike Kumaratunga - votes 4,312,157 (51.12%)
UNP Ranil Wickremesinghe - votes 3,602,748
2005 presidential election:
UPFA Mahinda Rajapaksa - votes 4,887,152 (50.29%)
UNP Ranil Wickremesinghe - votes 4,706,366
2010 presidential election:
UPFA Mahinda Rajapaksa - votes 6,015,934 (57.88%)
New Democratic Front General Sarath Fonseka - votes 4,173,185
2015 presidential election:
New Democratic Front Maithripala Sirisena - votes 6,217,162 (51.28%)
UPFA Mahinda Rajapaksa-votes 5,768,090
However, at the 2018 Local Government elections the UNP only obtained 3,640,620 votes.
SLPP- votes 5,006,837 (40.47%)
UNF - votes 3,640,620 (29.42%)
UPFA -votes 1,497,234 (12.10%)