If lands will not be given from Hambanota, I will obtain lands from Matara, Monaragala, Ratnapura districts. I can't help it if Hambantota does not want this investment - PM
Only 1,235 acres will be taken from Hambantota – PM
Prime Minister Ranil Wickremesinghe said that only 1.235 acres will be given to the Chinese companies for the Hambantota port project development.

He said this during a special meeting held with the Maha Sangha of the district yesterday at the Ambalantota, Walawa Jayawardhanaramaya.
The Prime Minister further said the responsibility of acquiring the balance lands for the development projects of the total 15,000 acres will be handed over to Minister Sagala Ratnayake and MP Chamal Rajapaksa.
Former Speaker Chamal Rajapaksa had in fact accompanied the Prime Minister to this meeting with the Sangha.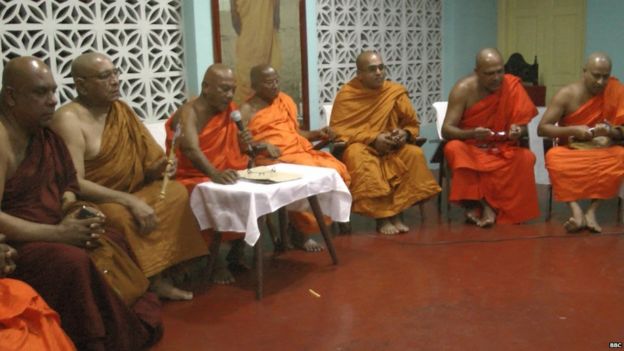 During the discussion the Maha Sangha including Chief Incumbent of the Tissamaharama Raja Maha Viharaya Venerable Devalegama Dhammasena Thera told the Prime Minister that they had been informed that the government was planning to acquire people's private lands for the development projects and said they will oppose such moves by the government.
However, the Prime Minister told the Maha Sangha that more than 1,235 acres of land will not be acquired from Hambantota for the Chinese development projects.
If Hambantota does not want it:

"If lands will not be given from Hambanota, I will obtain lands from Matara, Monaragala, Ratnapura districts. I can't help it if Hambantota does not want this investment. I will not acquire lands by force," the PM said.

He said that currently it was only the first phase of the agreement that was being implemented in Hambantota and the second and third agreements will be initiated in the future.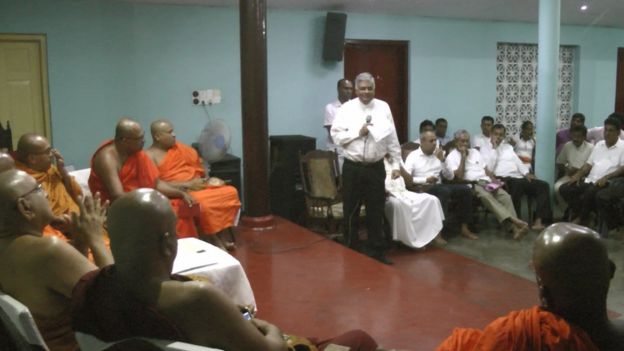 The Prime Minister said the Maha Sangha will also be called for the discussions of the second and third stages.
The PM also said he would instruct Minister Sagala Ratnayake to take necessary measures to cancel the court order obtained preventing the Joint Opposition protests scheduled to be held in Hambantota today.
However, during this discussion the Maha Sangha did not come to any consensus with the government, said the Convenor of the Bhikshu organisation for the protection of national resources Ven. Baragama Gnanatillake.
President's stand?
However, expressing his views President Maithripala Sirisena said in Kandy yesterday that he will not allow a single inch of land to be given to any country in the world.

He said the government had not signed any agreement with China to provide them 15,000 acres from the Southern Province and said statements made by certain ministers that 15,000 acres are to be given to the Chinese is false.