They believe the National Human Rights Commission is under pressure against publicizing its report.
After gathering evidence from 09 to 12 of May last year, the commission said the report would be made public in July.
One of the victims, Mohammed Fazeel who suffered serious injuries after being assaulted by the STF, said their hopes for justice were fading.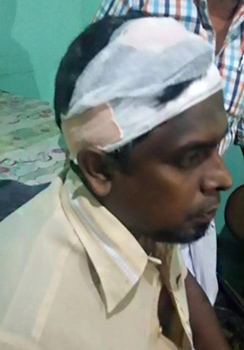 Samsudeen Mohamed FayazNo compensation is forthcoming either, he said.
Peradeniya police are yet to investigate a complaint by Fazeel.
However, the court hearing is continuing into the complaint against him by the STF, he said.
Mohamed Haseena, wife of Samsudeen Mohamed Fayaz who was severely burnt while trying to save his brother from his house set on fire, said they had no confidence in the investigations.
Masood Mohamed Faizal, another assault victim of the STF, agreed with her.
Acting director (investigation) of the commission Nihal Chandrasiri gave time periods for the release of their report on several occasions, but refrained from commenting on the delays.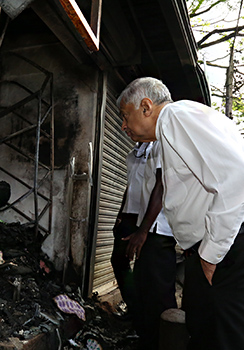 Prime minister Ranil Wickremesinghe visits DiganaPrime minister Ranil Wickremesinghe visited Digana, Kandy after the violence.
All suspects in the violence are presently out on bail.