There are stars, some even bigger than him, but no better actors.
In his range, depth and integrity, Dilip Kumar matched Hollywood great Marlon Brando or Japanese star Toshiro Mifune or Italian legend Marcello Mastroianni.
Kumar is not known abroad as he never acted in an English-language film. But his status as an actor who set a template which generations of film stars still emulate is unquestioned.
For over half a century - from 1944 when he made his first film, Jwaar Bhata, until his last film, Qila - he essayed a gamut of roles which defined manhood for generations of Indians.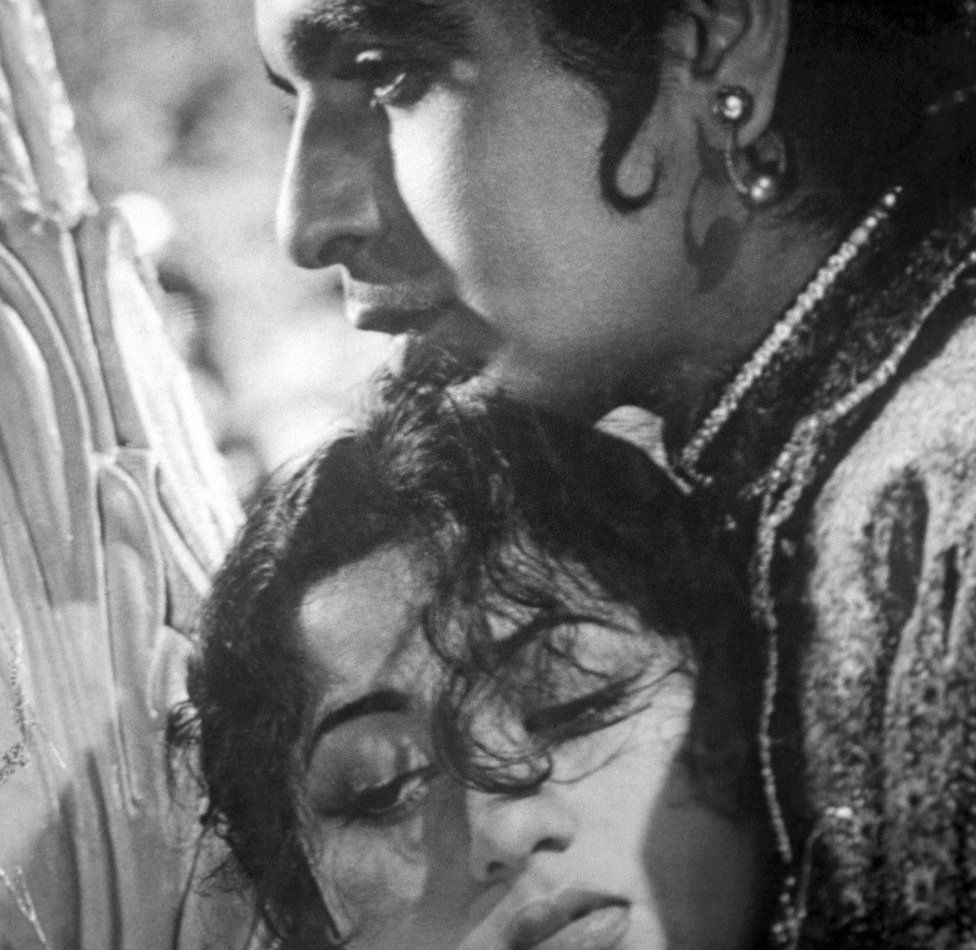 Mughal-e-Azam was one of Dilip Kumar's biggest hits
He played a villager - typically a farmer - in films such as Mela, Naya Daur, Ganga Jumna and Sagina Mahto.
He played a suave urban young man in Andaz, Footpath, Amar (the latter two somewhat darker than was the norm in Bollywood cinema at the time), Paigham, Madhumati and Leader.
He essayed a Bengali bhadralok - a bourgeois gentleman - in Milan, Devdas and Shikast.
He played a swashbuckling character in Aan, Azaad, Kohinoor and even in a way in Mughal-e-Azam.
He was the finest tragic actor of his days but also succeeded at comedy.
In the 1970s, he gracefully moved to character roles, playing the policeman father to superstar Amitabh Bachchan's criminal son character in Shakti.
He was a part of the effusion of patriotic films where he played a paterfamilias upholding the law and the honour of the country in Kranti, Karma and Kanoon Apna Apna.
Born Yusuf Khan in December 1922 in Peshawar, now part of Pakistan, he was the son of a fruit seller.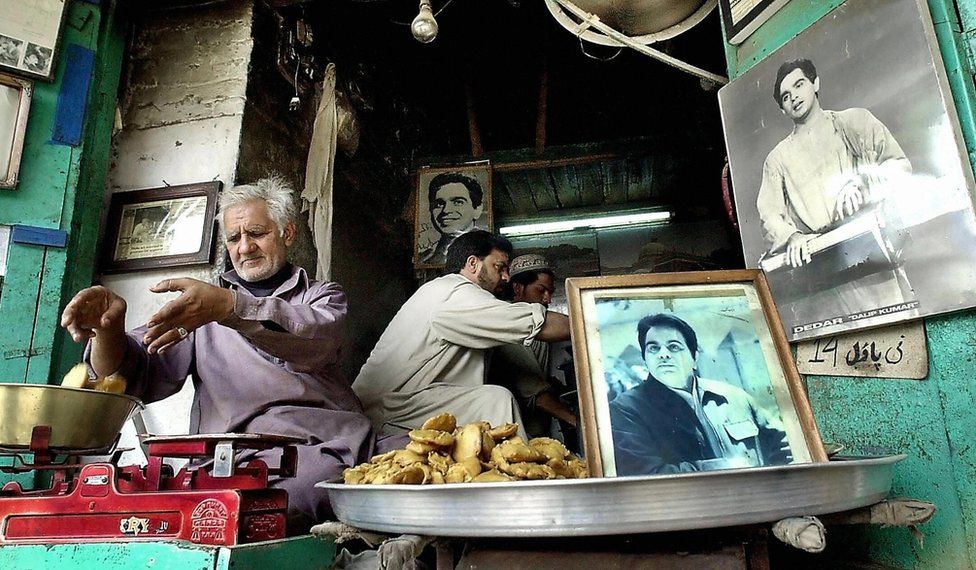 Dilip Kumar is still revered in Peshawar
He had no training in theatre or any inclination for the arts in his school or college days.
But Devika Rani, the doyenne of Bombay Talkies studio and a formidable star in her own right picked him up, gave him his cinema name and cast him in Jwaar Bhata.
But the crucial stage came in his third film Milan, based on revered writer Rabindranath Tagore's novel Nauka Dubi.
This was when Kumar came under the influence of filmmaker Nitin Bose who, as he tells everyone, taught him the essence of acting - how to be able to emote without speaking.Though Kumar was known as a method actor, he did this without any formal training. He immersed himself in every role he played.
After a spate of early tragic roles which were popular in the late 1940s, he got severely depressed and had to consult a psychiatrist in London who told him to lighten up and choose happier roles.
Kumar - more than his contemporary rivals and fellow stars Raj Kapoor and Dev Anand - reflected India's political and social evolution through his films.
Kumar's roles told the story of India as it unfolded- as the independent country grew, prospered, ran into difficulties and faced challenges.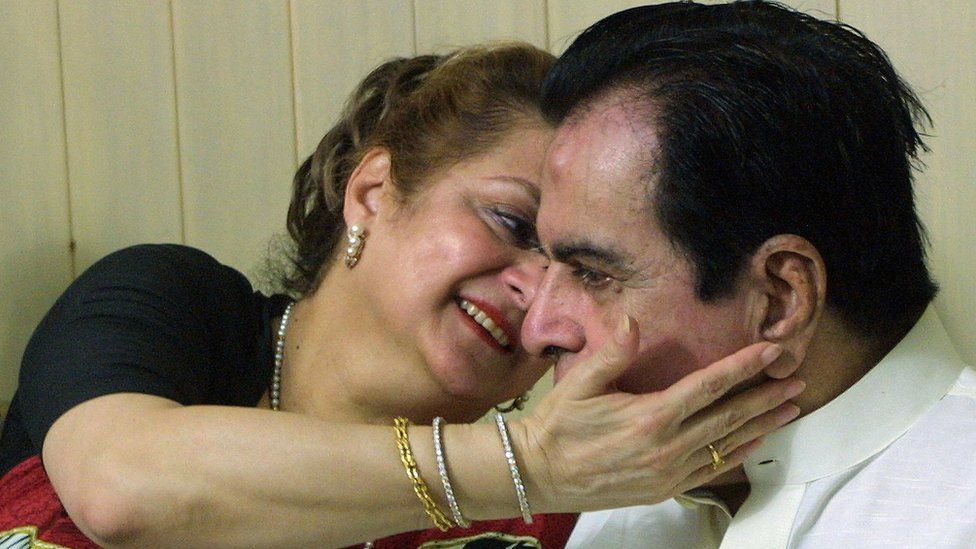 He married actress Saira Banu in 1966 in what proved to be a happy enduring marriage
His farmer in Mela (1948) is helpless, at the receiving end of outside forces, while by 1957, when he made Naya Daur, the same rural India has been transformed and young men believe they can take on the world and challenge it.
By 1960, the rural bandit Ganga he played in Ganga Jumna has a reason to rebel but yet the law must take its course and he must pay for his defiance.
His trade unionist in Paigham is a mild, middle-of-the-road person but not a feudal servitor to his mill employer.
Leader, his most explicit political film, is devoted to a passionate defence of India's first prime minister Jawaharlal Nehru's vision of a secular democratic country.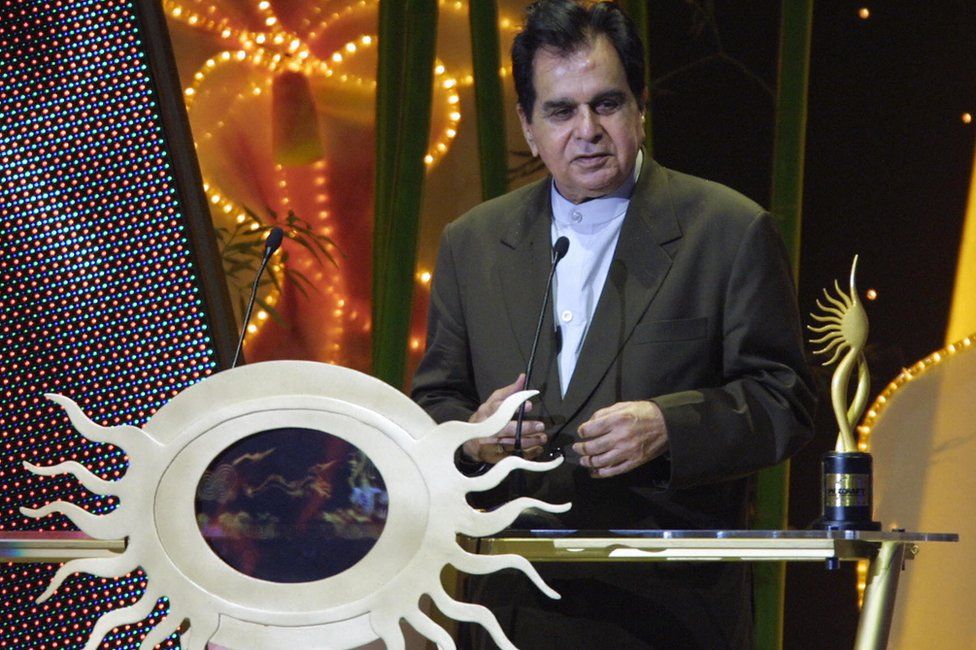 Dilip Kumar won several awards in his life
In a long career as an actor and producer, Kumar achieved much and was rewarded.
He received the Indian civilian award Padma Bhushan in 1991 and the Dadasaheb Phalke Award in 1994 for his contribution to cinema.
Pakistan too gave him its civilian award - the Nishan-e-Imtiaz - in 1997 which caused some controversy at home, but Atal Bihari Vajpayee, leader of the right-wing Bharatiya Janata Party (BJP) defended his right to keep it.
Kumar holds the Guinness world record for having received the most awards among Indian actors.
His 1950s rivals Raj Kapoor and Dev Anand have passed away as have many of the leading ladies he was paired with - Nur Jahan, Nargis, Meena Kumari, Madhubala, Nalini Jaywant and Nutan.
He married Saira Banu in 1966 in what proved to be a happy and enduring marriage.
Kumar was more than a great actor. He was an exemplary citizen of free India.
(BBC)